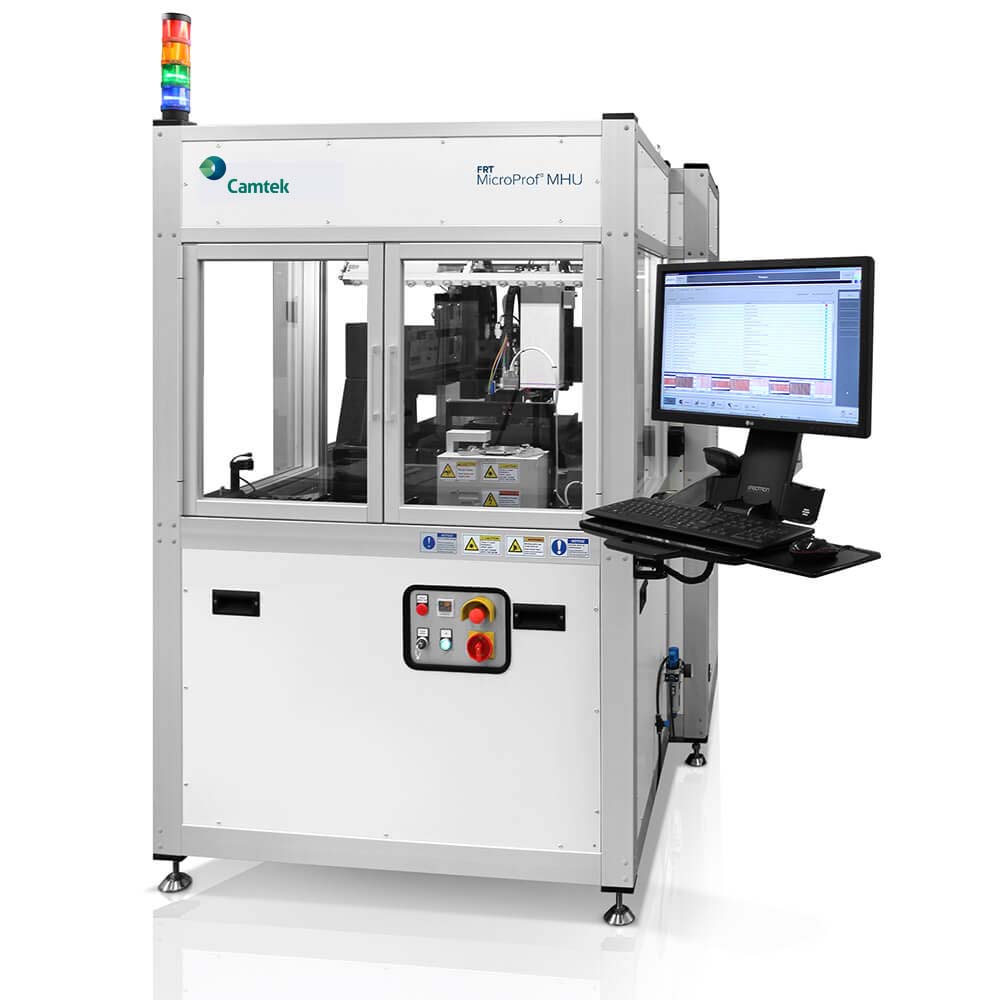 MicroProf® MHU
The FRT MicroProf® MHU metrology tool with Material Handling Unit (fully automated handling, manual cassette placement), is specially designed for the semiconductor, MEMS, sapphire, and LED industries. Typical applications are measurements of bare and coated, as well as structured wafers at various lithographic process steps. Due to a robotic arm with two vacuum end effectors, the tool has very high throughput rates of up to 220 wafers per hour. It is capable of processing wafer sizes from 2 to 8 inches. Up to 4 open cassettes can be processed and, additionally, there is the option to integrate a pre-aligner and an OCR reader.
The option for two-sided sample measurement allows the simultaneous measurement of the top and bottom surface with determination of the sample thickness, total thickness variation (TTV) and various surface parameters such as roughness, waviness and flatness of both sides. A complete wafer shape measurement is also possible with analysis of the global and local wafer parameters. A wafer sorting function is available, which is adjustable according to customer requirements. Based on SurfaceSens technology, additional sensors can be retrofitted later. A further application of the MicroProf MHU is the layer thickness determination of thin films, as well as layer stacks, measurement of step heights, bumps, vias (TSVs), trenches, etc.
With its fully SEMI-compliant design, robust hardware components and high throughput, the FRT MicroProf MHU is the perfect metrology solution for production use.
Highlights
Material Handling Unit with dual arm vacuum grabber
Optional edge handling and/or non-contact handling
Different wafer sizes (from 2 up to 8 inches) in the same tool
Optional OCR reader and pre-aligner
Maximum flexibility thanks to multi-sensor setup
Simultaneous measurement on both wafer sides (TTV)
Fully automated recipe operation with FRT Acquire Automation XT software
Optional SECS/GEM interface
Sample sorting function, set up according to customer requirements
Optional filter fan units, ISO class 4 clean room condition